Stellingwerven Low Saxon
---
Listen to this translation narrated with native pronunciation:
Translation and Narration: Johan Veenstra
Location: Nijeholtpade, Friesland (the Netherlands)
Transliterator: Reinhard F. Hahn
Language information: Stellingwerven Low Saxon is one of the varieties of the Low Saxon language, spoken in the southeastern part of the Netherlands province of Fryslân (Friesland). It is one of the dialect groups with Frisian substrates (like Low Saxon of Groningen, Emsland, Oldenburg and Eastern Friesland). [Click here for more.]
---

[Dutch Spelling]
[AS Spelling] [German Spelling]
---
Et Duumpien
Et Duumpien hadde sien Nöst in et Wägenhocke. Op een Kehr weren bede Oolden ütflögen. Se hadden Eten hälen willt för de Jongen en hadden de Jonkies hielendal allienig låten.
Nå een Schoffien kommt Heet-Duumpien weer thüüs.
"Wat is hier geböört?" seggt hij, "Wie hett jim wat dån, Kienties? Jim trillen van de Schrick!"
"Och, Heet", seggen se, "d'r kwamm su 'n mall, groot Ding langes, dat ons verschrickt mäkt hett. Et sach d'r so lelk en grieselig üt! Et luurde mit sien grote Ogen bij ons in 't Nöst. Dat het ons so benaud mäkt!"
"So", seggt de Heet, "wår is et hennegåhn?"
"No", seggen se, "et is die Kant ütgåhn."
"Waacht mar es evenpies", seggt de Heet, "'k gåh 't achternå. Sitt d'r mar niet over in, Kiender. Ik sall 't well te packen kriegen."
En dann fliggt hij d'r achteran.
As hij de Huke ommekommt, loppt dår de Leöw.
Mar et Duumpien is niet bange ütfalen. Hij strickt op 'e Rogge van de Leöw däle en beginnt die üttehutelen. "Wat hebb ie bij mien Hüüs te söken," seggt hij, "en mien Jonkies bange te mäken?"
De Leöw treckt him d'r nix van an en loppt gewohn dör.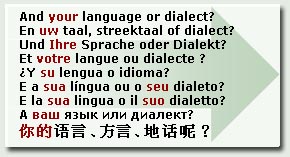 Dann beginnt et kleene Råsbeckien noch mehr tekehr te gåhn. "Ie hebben d'r nix te mäken, segg ik jo! En a' j' noch es weer ommekommen", seggt hij, "dann sö' j' well es siehn, wat d'r geböört! Ik du et niet gräg", seggt hij, en hij tillt sien iene Potien op, "mar dan breek ik je de Rogge."

En dann fliggt hij weeromme når et Nöst.

"So, Kiendties", seggt hij, "dat he' 'k him oflehrt. Die kommt hier niet mehr däle."