Stellingwerven Low Saxon
---
Listen to this translation narrated with native pronunciation:
Translation and Narration: Johan Veenstra
Location: Nijeholtpade, Fryslân (the Netherlands)
Language information: Stellingwerven Low Saxon is one of the varieties of the Low Saxon language, spoken in the southeastern part of the Netherlands province of Fryslân (Friesland). It is one of the dialect groups with Frisian substrates (like Low Saxon of Groningen, Emsland, Oldenburg and Eastern Friesland). [Click here for more.]
---

[Dutch Spelling] [AS Spelling] [German Spelling]
---
Et doempien
Et doempien hadde zien nust in et waegenhokke. Op een keer weren beide oolden uutvleugen. Ze hadden eten haelen wild veur de jongen en hadden de jonkies hielendal allienig laoten.

Nao een schoffien komt heit-doempien weer thuus.

"Wat is hier gebeurd?" zegt hi'j. "Wie het jim wat daon, kienties? Jim trillen van de schrik!"

"Och heit," zeggen ze, "d'r kwam zoe'n mal, groot ding langes dat oons verschrikt maekt het. Et zag d'r zo lelk en griezelig uut! Et loerde mit zien grote ogen bi'j oons in 't nust. Dat het oons zo benauwd maekt!"

"Zo," zegt de heit, "waor is et hennegaon?"

"Now," zeggen ze, "et is die kaant uutgaon."

"Waacht mar es evenpies," zegt de heit, "ik gao 't aachternao. Zit d'r mar niet over in, kiender. Ik zal 't wel te pakken kriegen."

En dan vligt hi'j d'r aachteran.

As hi'j de hoeke ommekomt, lopt daor de leeuw.

Mar et doempien is niet bange uutvalen. Hi'j strikt op 'e rogge van de leeuw daele en begint die uut te hoetelen. "Wat heb ie bi'j mien huus te zuken?" zegt hi'j, "en mien jonkies bange te maeken?"

De leeuw trekt him d'r niks van an en lopt gewoon deur.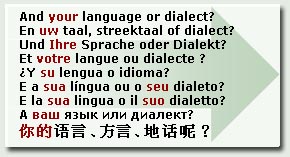 Dan begint et kleine raosbekkien nog meer tekeer te gaon. "Ie hebben d'r niks te maeken, zeg ik jow! En aj' nog es weerommekommen," zegt hi'j, "dan zuj' wel es zien wat d'r gebeurt! Ik doe et niet graeg," zegt hi'j, en hi'j tilt zien iene potien op, "mar dan breek ik je de rogge."

En dan vligt hi'j weeromme naor et nust.

"Zo, kienties," zegt hi'j, "dat he'k him ofleerd. Die komt hier niet meer daele."