Tausug
---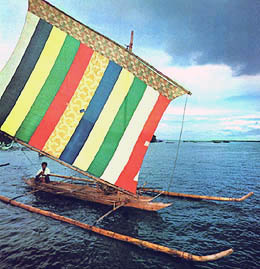 Tausug outriggers (
vinta
) come with colorful sails.
Language information: The Tausug language is natively known as Bahasa Sūg or Bahasa Tausūg, also as Basa Sūg or Basa Tausūg. It is currently used by about a half million ethnic Tausug and, mostly as a secondary language, by about as many people belonging to neighboring ethnic groups.
The native Tausug area is the Philippine province of Sulu which consists of an archipelago in which the island of Sulu as its largest member. These islands are situated in the way of a strong ocean current that flows between the Sulu Sea and the Sulawesi (Celebes) Sea through the narrow between Mindanao and Borneo. The name Tausug means something like "people of the current." This group of islands may be seen as representing a sort of bridge between the Southern Philippines and the island of Borneo, specifically with the region of Sabah which now belongs to Malaysia and is home to some Tausug-speaking communities as well, known there as Suluk. While they represent the majority in Sulu, Tausug people represent minorities not only in Sabah but also in the Philippine provinces of Zamboanga del Sur, Basilan and Tawi-Tawi.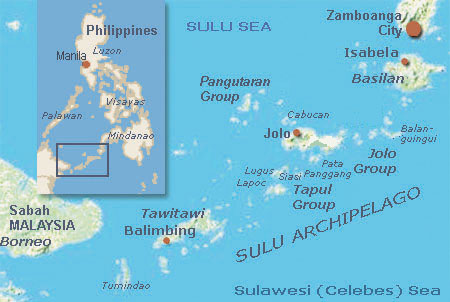 Sulu province may be seen as representing a bridge between the predominantly Christianized and predominantly Islamicized regions of the Nusantara, the Malaiic linguistic and cultural sphere encompassing aboriginal Taiwan, Philippines, Brunei Darussalam, Indonesia and Singapore, Malaysia's mainland, and Southern Thailand.
While there are some Christians among the Tausug, the majority of Tausug people are Muslim. Many of them are not only proficient in neighboring and dominant languages (such as Tagalog, Cebuano, Malay and English) but have some command of Arabic as well.
Like Malay and Balinguingui Sama, Tausug is traditionally written using the Jawi derivative of the Arabic alphabet, though these days both languages are more commonly written by means of a Roman-based writing system.
Genealogy: Austronesian > Malayo-Polynesian&nbsp> Western&nbsp> Philippines&nbsp> Central&nbsp> Visayan&nbsp> Southern&nbsp> Butuan-Tausug
Historical Lowlands language contacts: English
---
Click to open the translation: [Click]

---
Other Philippine language varieties: [Click]

---
Author: Reinhard F. Hahn