Twente Low Saxon
---
Listen?

Translator: Henry Pijffers (License)
Location: Rijssen, Twente (the Netherlands)
Transliteration: Ingmar Roerdinkholder
Language information: Twente Low Saxon is spoken in the Twente region in the eastern part of the Netherlands. [Click here for more.]
---

[Translator's Spelling]
[German Spelling] [AS Spelling]
---
Et duymke
Et duymke had syn nös in de sküppe. De olden warren der maol uut evloegen, se wollen wat te etten krygen vuyr hoer jungen, en hadden de kleynen alene achter elaoten.
Nao een setje koem et menke wiir t'huus.
"Wat is der hyr passeerd?" segde he. "We hev u kwaod edaon, wichter? Uyloe seet der amaol so bange uut!"
"Och va," segden se, "der koem hyr net so enen groten buman langs. He sag der so gemeen en ofskuyulik uut! He staeren in uns nös met syne grote ogen. He maken uns so bange!"
"So," segde de va, "woor is he hen?"
"No", segden se, "he güng de kante uut."
"Wocht maer!" segde de va, "ik sal der wal es aeven achterran gaon. Waest maer nit bange, wichter. Ik pakke 'm wal!" En he vloeg der achterran.
Met at he üm de boch koem, loep daor de loeue rond.
Maer et duymke was gans nit bange. He sprüng up de rügge van de loeue en begün up üm to futeren. "Wat maak y nu, nao myn huus to kommen," segde he, "en myne wichter bange te maken?!"
De loeue letten der nit up en loep verdan.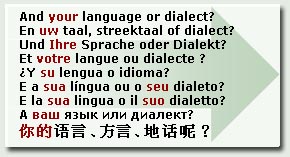 Det maken et duymke nog helliger. "Y hebt daor niks te soeken, seg ik u! En as y nog maol terügge komt," segde he, "no, dan sal ik u es! Ik do et nit gerne," segde he en buyren een van syne bene up, "maer ik brekke u met myn been so de rügge in ene sekonde!"

Daornao vloeg he wiir terügge naor syn huus.

"So wichter," segde he, "den heb ik es maol good de woch an eseg. Den kümp nit wiir."