Twente Low Saxon
---
Listen?

Translator: Henry Pijffers (License)
Location: Rijssen, Twente (the Netherlands)
Transliteration: Reinhard F. Hahn,Seattle & San Francisco (USA)
Language information: Twente Low Saxon is spoken in the Twente region in the eastern part of the Netherlands. [Click here for more.]
---

[Translator's Spelling]
[German Spelling] [AS Spelling]
---
Et Düümke
Et Düümke hadd sien Nöss in de Sküppe. De Olden warren der mål uteflögen; se wollen wat te etten kriegen für hör Jungen, en hadden de Klejenen aleene achterelåten.
Nå een Settje kööm et Mænnke wier t'huus.
"Wat is der hier passeert?" seggte he. "We heff u quåd edån, Wichter? Ülöö seet der amål so bange uut!"
"Och, Va", seggten se, "der kööm hier net so eenen groten Bumann langs. He sach der so gemeen en ofsküulik ut! He stæren in uns Nöss met siene grote Ogen. He maken uns so bange!"
"So", seggte de Va, "woor is he hen?"
"No", seggten se, "he güng de Kante ut."
"Wocht mær!" seggte de Va, "ik sall der wall es æven achterran gåhn. Wæst mær nit bange, Wichter. Ik packe 'm wall!" En he flöög der achterran.
Met at he üm de Boch kööm, lööp dår de Löue rond.
Mær et Düümke was gans nit bange. He sprüng up de Rügge van de Löue en begünn up üm to futeren. "Wat maak ie nu, nå mien Huus to kommen", seggte he, "en miene Wichter bange te maken?!"
De Löue letten der nit up en lööp verdann.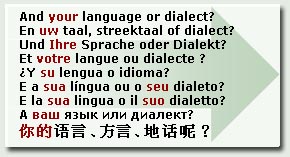 Det maken et Düümke noch helliger. "Ie hebbt dår nix te söken, segg ik u! En as ie nog mål terügge kommt", seggte he, "no, dann sall ik u es! Ik do et nit gerne", seggte he en büren een van siene Beene up, "mær ik brecke u met mien Been so de Rügge in eene Sekonde!"

Dårnå flöög he wier terügge når sien Huus.

"So, Wichter", seggte he, "den hebb ik es mål good de Woch an esegg. Den kümp nit wier."