Twente Low Saxon
---
Listen?

Translator: Henry Pijffers (License)
Location: Rijssen, Twente (the Netherlands)
Language information: Twente Low Saxon is spoken in the Twente region in the eastern part of the Netherlands. [Click here for more.]
---

[Translator's Spelling] [German Spelling] [AS Spelling]
---
Et duymke
Et duymke has sin noes in de skueppe. De olden warren der maol ut evloegen, sey wollen wat te aetten krygen vuyr hoer jongen, en hadden de kleinen alene achter elaoten.
Nao eyn setje koem et maenke wyr thus.
"Wat is der hyr passeerd?" segde hey. "Wey hev u kwaod edaon, wichter? Uylue sint der amaol so bange ut!"
"Och va", segden sey, "der koem hyr net so eynen groten boeman langs. Hey sag der so gemeyn en ofskuywelik ut! He stearen in ons noes met sinne grote ogen. Hey maken ons so bange!"
"So", segde de va, "wur is hey hen?"
"No", segden sey, "hey gueng dey kante ut."
"Wocht mear!" segde de va, "ik sal der wal es eaven achteran gaon. Weast mear nit bange, wichter. Ik pakke uem wal!" En hey vloyg der achteran.
Met at hey uem de boch koem, loyp daor de loeywe rond.
Mear et duymke was gans nit bange. He sprueng op de ruegge van de loeywe en beguen op uem te futeren. "Wat maak y nu nao min hus te kommen", segde hey, "en minne wichter bange te maken?!"
De loeywe letten der nit op en loyp vedan.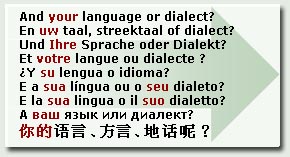 Daet maken et duymke nog helliger. "Y hebt daor niks te soyken, seg ik u! En as y nog maol teruegge komt", segde hey, "no, dan sal ik u es! Ik do et nit gerne", segde hey en buyren eyn van sinne beyne op, "mear ik braekke u met min beyn so de ruegge in eyne seconde!"

Daornao vloyg hey wyr teruegge naor sin hoes.

"So wichter", segde hey, "den heb ik es maol good de woch an eseg. Den kuemp nit wyr."