Ukrajins'ka
Ukrainian
---
Listen to this version narrated with native pronunciation:
Translation & Narration: Olga Kalashnik (Ольга Калашник)
Location: Melbourne, Australia; formerly Ukraine
Transliteration: Reinhard F. Hahn, Seattle & San Francisco (USA)
Language information: [Click]

[Version 1] [Version 2]
---

[Cyrillic Script] [Western Script (General)] [Western Script (English)]
---
Kropyv'yanyk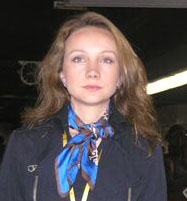 Duzhe davno nevelyka spivucha ptashka kropyv'yanyk zvyla hnizdo v harazhi. I meshkav vin tam zi svoyeyu sim'yeyu. Odnoho razu, koly bat'ky pishly v poshukakh yizhi dlya ditey, malehy zalyshylysya odni v hnizdi.
Cherez deyakyy chas tatko povernuvsya. «Scho stalosya?— spytav vin. —Dity, vy duzhe nalyakani?»
«Oy, tatu,— movyly vony, —Zovsim nedavno prykhodyla velyka potvora. Yoho pohlyad nas duzhe nalyakav. Vin podyvyvsya v hnizdo svoyimy velykymy zhakhlyvymy ochyma, i my duzhe nalyakani.»
«Tak,— skazav tato-kropyv'yanyk, —I kudy zh vin pishov?»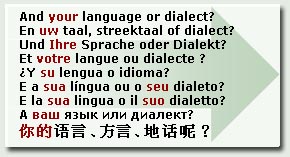 «Vin pishov v tu storonu.»

«Chekayte na mene, dity,— skazav tato-kropyv'yanyk. —Ya provchu tsyu potvoru. Nichoho bil'she lyakatys', dity! Ya yoho spiymayu.» I vin pishov slidom za potvoroyu.

Povernuvshy za kut, vin pobachyv leva, scho yshov sobi. Kropyv'yanyk siv na levovu spynu i zakrychav:«Navischo ty khodyv do moho hnizda i nalyakav moїkh malyukiv?»

Lev ne zvertav uvahy na kropyv'yanyka. Vin yshov sobi dali.

Kropyv'yanyka tse sche bil'she rozlyutuvalo. I vin sche sil'nishe zakrychav na leva: «Ne prykhod' bil'she do moho hnizda, ya tobi kazhu. Yakscho ty sche raz pryydesh, to pobachysh scho stanet'sya. Ya ts'oho ne bazhayu,–ckazav vin ta zamakhnuvsya nohoyu, Abo zlomayu tobi spynu.»

Potim vin povernuvsya v hnizdo.

«Zrobleno dity,— skazav vin, —Ya yoho provchyv. Vin bil'she ne pov'yazhet'sya.»