Ukrajins'ka
Ukrainian
---
Listen to this version narrated with native pronunciation:
Translation & Narration: Olga Kalashnik (Ольга Калашник)
Location: Melbourne, Australia; formerly Ukraine
Transliteration: Reinhard F. Hahn, Seattle & San Francisco (USA)
Language information: [Click]

[Version 1] [Version 2]
---

[Cyrillic Script] [Western Script (General)] [Western Script (English)]
---
Kropyv'janyk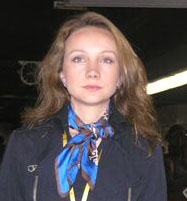 Duže davno nevelyka spivuča ptaška kropyv'janyk zvyla hnizdo v haraži. I meškav vin tam zi svojeju sim'jeju. Odnoho razu, koly bat'ky pišly v pošukakh jiži dlja ditej, malehy zalyšylysja odni v hnizdi.
Čerez dejakyj čas tatko povernuvsja. «Sčo stalosja?— spytav vin. —Dity, vy duže naljakani?»
«Oj, tatu,— movyly vony, —Zovsim nedavno prykhodyla velyka potvora. Joho pohljad nas duže naljakav. Vin podyvyvsja v hnizdo svojimy velykymy žakhlyvymy očyma, i my duže naljakani.»
«Tak,— skazav tato-kropyv'janyk, —I kudy ž vin pišov?»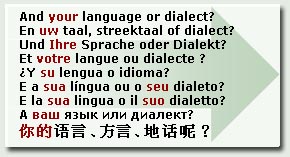 «Vin pišov v tu storonu.»

«Čekajte na mene, dity,— skazav tato-kropyv'janyk. —Ja provču tsju potvoru. Ničoho bil'še ljakatys', dity! Ja joho spijmaju.» I vin pišov slidom za potvoroju.

Povernuvšy za kut, vin pobačyv leva, sčo jšov sobi. Kropyv'janyk siv na levovu spynu i zakryčav:«Navisčo ty khodyv do moho hnizda i naljakav moїkh maljukiv?»

Lev ne zvertav uvahy na kropyv'janyka. Vin jšov sobi dali.

Kropyv'janyka tse sče bil'še rozljutuvalo. I vin sče sil'niše zakryčav na leva: «Ne prykhod' bil'še do moho hnizda, ja tobi kažu. Jaksčo ty sče raz pryjdeš, to pobačyš sčo stanet'sja. Ja ts'oho ne bažaju,— ckazav vin ta zamakhnuvsja nohoju, Abo zlomaju tobi spynu.»

Potim vin povernuvsja v hnizdo.

«Zrobleno dity,— skazav vin, —Ja joho provčyv. Vin bil'še ne pov'jažet'sja.»