Jiddisj (Yiddish)
---
Listen to this version narrated with non-native pronunciation:
Translation: Reinhard F. Hahn and Mark Williamson (License)
Locations: Seattle, Washington, and Phoenix, Arizona (USA)
Narration: Reinhard F. Hahn
Transliteration: Reinhard F. Hahn
Language information: [Click]

---

[Hebrew Script 1]
[Hebrew Script 2]
[Dutch Spelling] [German Spelling] [Cyrillic]
---
Der rob
Uitspraak:

éi : als in Engels day
ch : altijd [x] (als in Nederlands acht)
g : altijd "hard" [g] (als in het Duits)
sj : als in Engels ship en show
zj : als in Frans jour
Der rob hot gehát zain nest innem wogns hoiz. Amól zennen awékgefloign di altn béide kedéi tsoe brenggen eppes tsoe esn far zéiëre jínggelech – oen zéi hobn gor alléin gelózn die kléininker.
In a régge aróém iz wieder ahéim gekóémmen der robn-tate.
"Wos zje iz do gesjén?" zogt er. "Wer hot aich éppes béizs getón, kínderlech? Ir zait jo azói dersjrókn!"
"Oi, tátenjoe," zogn zéi, "aza mónkalb aza groiser iz nor wos bai fárgekoemmen. Er hot óisgezen azói taiwlónisj oen groilik! Er hot aráin geglótst in oendzer nest mit zaine groise oign. Derfar hobn mir oendz azói dersjrókn!"
"Ahá," zogt der robn-tate, "Woe faróémmert iz er gegánggen?"
"Noe," zogn zéi, "Er iz geggánggen ot faróémmert."
"Wart!" zogt der robn-tate, "Ich wel im noch. Sja! Baróéïkt zich, kínderlech! Ich wel im derwísjn." Oen glaich fliet er iem noch.
Az er iz gekóémmen oemmen ek, iz gewén der léib wos iz ot faróémmert gegánggen.
Ober der rob hot nit gehát kéin moire. Er iz geflóign oifn roekn foennem léibn oen hot óngehoibn tsoe béizern. "Farwós koemst doe tsoe main hoiz," zogt er, "oen dersjrékst maine kinder?!"
Der lejb hot zich górnit óémgekoekt oen iz bloiz waiter gegánggen.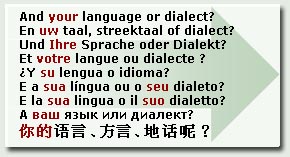 Derieber hot im dos kléine gíéberle noch sjtarker óisgeziedlt. "górnisjt host doe dortn tsoe ton, zog ich dir! Oen koemst doe wieder a mol," zogt er, "noe, doe wetst zen! Ich wel take nit ton," zogt er oen héibt zich oif éin foen zaine fíéselech, "ober ich wolt brechn dain roekn-oen-lend mit éin trit!"

Noch dem fliet er tsoerík tsoe zain nest.

"Ot hot ier aich, kínderlech," zogt er, "Ich hob dem gelózn hern. Der wet nit kóémmen do tsoerík."