Jiddisch (Yiddish)
---
Listen to this version narrated with non-native pronunciation:
Translation: Reinhard F. Hahn and Mark Williamson (License)
Locations: Seattle, Washington, and Phoenix, Arizona (USA)
Narration: Reinhard F. Hahn
Transliteration: Reinhard F. Hahn
Language information: [Click]

---

[Hebrew Script 1]
[Hebrew Script 2]
[Dutch Spelling] [German Spelling] [Cyrillic]
---
Der Råb
Aussprache:

å : wie in doch oder guck, je nach Mundart
u : [u] oder [i], je nach Mundart
ch : immer [x] (wie in Sachen, nie wie in sicher)
s : immer "weich", wie in sieh und lesen
ž : wie j in Journal
Der Råb håt gehat sajn Neßt inem Wågnß Hojs. Amål sennen awéckgeflojgn di Altn bejde kedéj zu brenggen eppeß zu essn far séjere Jínggelech – un sej håbn går alléjn gelåsn die Kléjninker.
In a Regge arumm is wieder ahéjm gekummen der Råbn-Tate.
"Wåß že is då geschénn?" sågt er. "Wer håt ajch eppeß Bejsß getån, Kínderlech? Ir sajt jå asój derschrokn!"
"Oj, Tátenju," sågn sej, "asa Monnkalb asa grojßer is nor wåß baj fargekummen. Er håt ojßgesen asoj tajwlónisch un grojlik! Er håt arajn geglozt in undser Neßt mit sajne grojße Ojgn. Derfar håbn mir unds asoj derschrokn!"
"Aha," sågt der Råbn-Tate, "Wu farummert is er geganggen?"
"Nu," sågn sej, "Er is geganggen ott farummert."
"Wart!" sågt der Råbn-Tate, "Ich well im nåch. Scha! Barúikt sich, Kínderlech! Ich well iem derwíschn." Un glajch fliet er iem nåch.
As er is gekummen ummen Eck, is gewénn der Lejb wåß is ot farummert geganggen.
Åber der Råb håt nit gehat kejn Mojre. Er is geflojgn ojfn Rukn funnem Lejbn un håt ångehojbn zu bejsern. "Farwåß kumßt du zu majn Hojs," sågt er, "un derschrekßt majne Kinder?!"
Der Lejb håt sich gårnit umgekukt un is blojs wajter geganggen.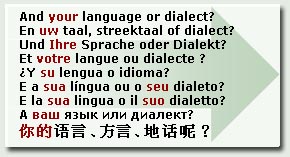 Derieber håt iem dåß klejne Gíberle noch schtarker ojßgesiedlt. "Gårnischt håßt du dortn zu ton, såg ich dir! Un kumßt du wieder a Mål," sågt er, "nu, du wetßt senn! Ich well take nit ton," sågt er un hejbt sich ojf ejn fun sajne Fíeßelech, "åber ich wollt brechn dajn Rukn-un-Lend mit ejn Tritt!"

Nåch demm fliet er zuríck zu sajn Neßt.

"Ot håt ier ajch, Kínderlech," sågt er, "Ich håb demm gelåsn hern. Der wett nit kummen då zuríck."