Suydwest-Drèents van 't 'Oogeveine
Drenthe Low Saxon of Hoogeveen
---
Listen to this translation narrated with native pronunciation:
Translation and Narration: Arend Victorie
Location: Hoogeveen (Oogeveine), Drenthe, Netherlands
Language information: [Click]

---

[AS Spelling]
[Dutch Spelling]
[German Spelling]
[Video]
---
't Tuynkruperty

't Tuynkruperty ad syn nüst eboud in 't achteruys. Op 'n maol waren beyde aolders uyt vlygen egaone ümme wat te kauen voer de pruygels te aelen, en syj adden oer ümmeltys ylemaole allennig in uys achter elaoten.
Nao een posy streek va weer op 't nüst neer. "Wat is dat voer een kebaal!" vroeg ij, "Wele ef u wat anedaone dat ai ja ylemaole aover de turen bint?"
"Oh, Va," pypten de pruygels. "D'r kwaamp net een uger van büllebak voerbij, en dy sag der so vaal en vuul uyt, en ij gaapte mit syn grote doppen so schyr ons nüssy in. Nou, en daordoer bint wij so aover de turen."
"So," seg Va, "en welke kante is ij op egaone?"
"Nou," segt de pruygels, "ai j' 't wult weten, ij is dy kante uyt-egaone."
"Wacht mar ys, aemtys," seg Va, "ik gao der mit yne achter her."
En ij vlüg der achter her. En as ij d' uke ümme komp löp daor 'n leoew.
Mar 't vrabbe van een Tuynkrupertyn is ök nyt op syn snavel evallen. En dy gyt bij de leoew op de rögge sitten en begünt daor te tyren en te rasen. "Heyj, yje! Wat ebby bij myn nüst te suyken, yje durak dat ai bint? Ümme myn kynder so benaud te maken?"
De leoew trekt üm der niks van an, löp gewoon wyder as so 's ij niks oerd ev.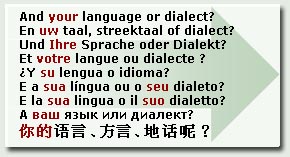 En daordoer begünt dat kleyne krummelty noch grammyteger in de kop te worden. "Y ebt daor niks te suyken, seg ik u. En ward uun gebynte a' j' noch ys weer duyrt te komen. Ik du 't nyt graag," en ij old syn yne poty in de locht, "Mar ans müt ik u de pokkel doer de midden trappen!"

Daornao vlüg ij weer op syn nüst an.

"So, kynder," seg ij "Dat eb ik um mooi of-eleerd. Dy krygt wij yr nyt weer te syn!"