Süüdwest-Dräents van 't 'Oogeveene
Drenthe Low Saxon of Hoogeveen
---
Listen to this translation narrated with native pronunciation:
Translation and Narration: Arend Victorie
Location: Hoogeveen (Oogeveine), Drenthe, Netherlands
Transliteration: Reinhard F. Hahn
Language information: [Click]

---

[German Spelling]
[Dutch Spelling]
[AS Spelling]
[Video]
---
't Tüünkrupertie

't Tüünkrupertie 'att sien Nüst eboot in 't Achterüüs. Op 'n Maol waren beide Aolders üüt fliegen egaohne, ümme wat te kauen för de Prügels te 'älen, en séj 'adden ör 'Ümmelties ielemaole allennig in 'Üüs achterelaoten.
Nao een Posie streek Va weer op 't Nüst neer. "Wat is dat för een Kebaal!" frögg éj, "Wele 'eff u wat anedaone, dat ei ja ielemaole aover de Turen bint?"
"Oh, Va", piepten de Prügels. "D'r kwamp nett een Uger van Bülleback vörbéj, en die sach der so fahl en fuul üüt, en 'éj gaapte mit sien grote Doppen so schier ons Nüssie in. No, en daordör bint wéj so aover de Turen."
"So", segg Va, "en welke Kante is 'éj opegaohne?"
"Nou", seggt de Prügels, "a' j' 't wullt weten – 'éj is die Kante ütegaohne."
"Wacht mar ies, ämties," segg Va, "ik gaoh der mit iene achter her."
En 'éj flügg der achter her. En as éj d' 'Uke ümmekomp, löpp daor 'n Leöw.
Mar 't Frabbe van een Tüünkrupertien is ök niet op sien Snavel efallen. En die gieht béj de Leöw op de Rögge sitten en begünnt daor te tieren en te rasen. "Heéj, éje! Wat 'ebbie béj mien Nüst te süken, éje Durak, dat ai bint? Ümme mien Kiender so benaut te maken?"
De Leöw treckt üm der nix van an, löpp gewohn wieder as so 's éj nix 'ört eff.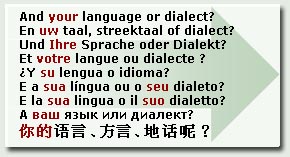 En daordör begünnt dat kleine Krummeltie noch grammiteger in de Kopp te worden. "Ie 'ebbt daor nix te süken, segg ik u. En wahrt uun Gebiente, a' j' noch ies weer düürt te komen. Ik du 't niet graag", en éj 'old sien iene Potie in de Locht, "Mar anns mütt ik u de Pockel dör de Midden trappen!"

Daornao flügg 'éj weer op sien Nüst an.

"So, Kiender", segg 'éj "Dat 'ebb ik um mooi ofelehrt. Die kriegt wéj ier niet weer te siehn!"