Zuudwest-Drèents van 't 'Oogeveine
Southwestern Drenthe Low Saxon of Hoogeveen
---
Listen to this translation narrated with native pronunciation:
Translation and Narration: Arend Victorie
Location: Hoogeveen (Oogeveine), Drenthe, Netherlands
Language information: [Click]

---

[Dutch Spelling] [AS Spelling] [German Spelling]
[Video]
---
't Tuunkroepertie

't Tuunkroepertie ad zien nüst ébouwd in 't achteruus. Op 'n maol waren beide aolders uut vliegen égaone umme wat te kauwen veur de prugels te aelen en zi'j adden eur ummelties ielemaole allennig in uus achter élaoten.

Nao een poosie, streek va weer op 't nüst neer. "Wat is dat veur een kebaal!" vreug 'ij. "Wele ef oe wat an édaone datai ja ielemaole aover de toeren bint?"

"Oh, Va," piepten de prugels. "D'r kwaamp net een oeger van bullebak veurbij en die zag der zo vaal en voel uut en 'ij gaapte mit zien grote doppen zo schier oonz nüssie in. Now en daordeur bint wi'j zo aover de toeren."

"Zo," zeg Va, "en welke kaante is 'ij op égaone?"
"Now," zegt de prugels, "ai'j 't wult weten, 'ij is die kaante uut égaone."

"Wacht mar ies, èemties," zeg Va, "ik gao der mitiene achterheer."

En 'ij vlüg der achterheer. En as 'ij d' oeke umme komp löp daor 'n leeuw.

Mar 't frabbe van een tuunkroepertien is ök niet op zien snavel 'evallen. En die giet bi'j de leeuw op de rögge zitten en begunt daor te tieren en te razen. "Hei'j ieje, wat ebbie bi'j mien nüst te zuuken? Ieje doerak datai bint umme mien kiender zo benauwd te maken?"

De leeuw trekt 'um der niks van an, löp gewoon wieder asos 'ij niks 'eurd ef.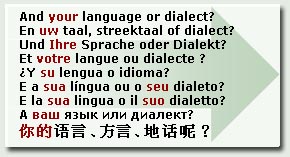 En daordeur begunt dat kleine krummeltie nog grammieteger in de kop te worden. "Ie ebt daor niks te zuuken, zeg ik oe. En waard oen gebiente a'j nog ies weer duurt te komen. Ik doe 't niet graag," en 'íj 'old zien iene pootie in de locht, "Mar aans mut ik oe de pokkel deur de midden trappen!"

Daornao vlüg 'ij weer op zien nüst an.

"Zo, kiender" zeg 'ij "Dat eb ik um mooi of 'eleerd. Die kriegt wij ier niet weer te zien!"