---
Introduction
Reinhard ("Ron") F. Hahn:

Oftentimes, when I meet someone for the first time, it seems as though I have some kind of antenna that lets me know what sort of a person I'm dealing with. Once my friend Jürgen Hebold introduced to me a certain Hannelore Hinz. My antenna informed me right away that here was a very special person, a person that works for the good of our language not only with a bunch of talk but uses it for serious and novel things as well and also has the courage to act as a droll character that approaches innovation in "old-fashioned" ways, so even the staunchest traditionalists forget their usual nay-saying. And on top of it, here we have a sweet, caring person.
I grew up close to the Iron Curtain, not far from where Hanne lived. But she lived on the other side, in the east, in Schwerin, Mecklenburg, and that was enormous distance then. In the meantime we've found each other, even though the "Big Pond" separates between us physically.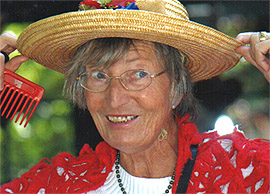 Aha! It's Squeezebox Hanne doing her

last-minute preening.


Well, we're actually dealing with two Hanne entities. Schriever-Hanne (Writer Hanne) writes lots of stories, poems and songs, quite a few of them serious, some of them published as or in Books. Treckfiedel-Hanne (Squeezebox Hanne) might pop up wherever there are crowds, especially in and around Schwerin, Mecklenburg, where she lives.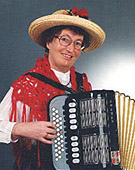 That's when she'll play her Treckfiedel ("pull fiddle," accordion) and will sing, and everyone knows her. Once in a while she'll appear for musical accompaniment when Schriever-Hanne teaches Low Saxon (Low German) at the Adult Education Center or when she gives author's readings. Also, the two ladies have collaborated on an audio-book.

Ladies and gentlemen, girls and boys, now it's my great pleasure to introduce to you the Hannes. Come on up, Hanning!
---
Treckfiedel-Hanne (Squeezebox Hanne): Here I am. So let's get the show on the road! But give me a second to warm up on my pauper's organ here, because I first need an okay-miao from my Persian-mix cats Lousy Lucy and Hobble Max. All righty then. So now I can be listened to by all sorts of people from this ... well, this world stage, if you will. Stage fright is settling down now. No wonder considering what sorts of friends have gathered here.
Music needs only one language. Some listeners have remarked I seem to be some sort of volcano on the squeezebox. I feel songs and dances, hit the right buttons and squeeze and pull the instrument without looking at it. And if I do hit a wrong button I just say, "It's live," and the audience grins. I don't know ... Might it be that an apple-cheeked angel played godparent and put a squeezebox in my cradle? I'm still grateful.
FKK

Naturism

For your listening pleasure
[Mp3]

De Sommer is dor, hei Hurra!

Nu holl'n wi dat mit FKK.

Fix dal Ti-Schört un Bücksen!

Nu sünd wi Waternixen.

Wi toben in Sünn un in't Natt,

man abends, denn gläuht uns dat Gatt.


Lyrics & Music: Hannelore Hinz

It's summer! With a beach towel each

We're off to the naturist beach.

Quickly off with those T-shirts and shorts now!

Let's be mermaids and mermen of sorts now!

Let's go frolic in sand, surf and sun!

Burnt backsides won't spoil our fun.


English: R. F. Hahn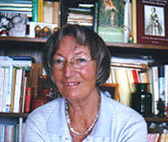 I've been squeezing the box for visitors from far and wide while they take sightseeing boat tours on our Schwerin Lake. I've been squeezing it for people in nursing homes and hospitals too, not only on work days but, if need be, on Christmas Eve as well, for instance squeezing out the song Hoch kloppt dat Hart ("My Heart Beats with Delight"). And my heart beats with delight whenever I get to sing and dance with children to the tunes my squeezebox churns out, and when the kids then ask, "When will you be back?"
Don't worry! I'll be back.
Schriever-Hanne (Writer Hanne): Writing is like building a house. Mind that you don't forget the windows! My first place was a little old house with large windows—and inside was a Christmas tree with many candles.

Christmas time ... and me a single young woman. My Christmas Fantasy surged forth from my heart like some upheaval—no sad poem, love—whatever used to be, hope—whatever will be. Christmas tree light gave me many friends, still these days. Euterpe tweeted the lyrics my way, and writer Ann-Charlott Settgast taught me my first steps in poetry and prose, later published in periodicals and anthologies. I wanted to get along farther and farther. Right after the fall of the Iron Curtain I started looking beyond my garden fence and made good friends—more learning. I wrote many types of poetry (rondeau, sonnet, sonnet cycle, haiku, etc.). But poetic corsets are likely to restrict the language—so there was free style. I added tunes to many of my poems, though real composers would do better jobs. Like a honey bee I keep striving to take good nectar back to the hive, and perhaps the small house will grow into a large one, one with lots of windows ... and one light shall never go out.
---








Please click here to leave an anniversary message (in any language you choose). You do not need to be a member of Lowlands-L to do so. In fact, we would be more than thrilled to receive messages from anyone.
Click here to read what others have written so far.





What's with this "Wren" thing?
The oldest extant version of the fable we are presenting here appeared in 1913 in the first volume of a two-volume anthology of Low Saxon folktales (Plattdeutsche Volksmärchen "Low German Folktales") collected by Wilhelm Wisser (1843–1935). Read more ...

| | | |
| --- | --- | --- |
| | | |







---

Introduction

Reinhard ("Ron") F. Hahn: Oftentimes, when I meet someone for the first time, it seems as though I have some kind of antenna that lets me know what sort of a person I'm dealing with. Once my friend Jürgen Hebold introduced to me a certain Hannelore Hinz. My antenna informed me right away that here was a very special person, a person that works for the good of our language not only with a bunch of talk but uses it for serious and novel things as well and also has the courage to act as a droll character that approaches innovation in "old-fashioned" ways, so even the staunchest traditionalists forget their usual nay-saying. And on top of it, here we have a sweet, caring person.

I grew up close to the Iron Curtain, not far from where Hanne lived. But she lived on the other side, in the east, in Schwerin, Mecklenburg, and that was enormous distance then. In the meantime we've found each other, even though the "Big Pond" separates between us physically.




Aha! It's Squeezebox Hanne doing her

last-minute preening.


Well, we're actually dealing with two Hanne entities. Schriever-Hanne (Writer Hanne) writes lots of stories, poems and songs, quite a few of them serious, some of them published as or in Books. Treckfiedel-Hanne (Squeezebox Hanne) might pop up wherever there are crowds, especially in and around Schwerin, Mecklenburg, where she lives. That's when she'll play her Treckfiedel ("pull fiddle," accordion) and will sing, and everyone knows her. Once in a while she'll appear for musical accompaniment when Schriever-Hanne teaches Low Saxon (Low German) at the Adult Education Center or when she gives author's readings. Also, the two ladies have collaborated on an audio-book.

Ladies and gentlemen, girls and boys, now it's my great pleasure to introduce to you the Hannes. Come on up, Hanning!

---

Treckfiedel-Hanne (Squeezebox Hanne): Here I am. So let's get the show on the road! But give me a second to warm up on my pauper's organ here, because I first need an okay-miao from my Persian-mix cats Lousy Lucy and Hobble Max. All righty then. So now I can be listened to by all sorts of people from this ... well, this world stage, if you will. Stage fright is settling down now. No wonder considering what sorts of friends have gathered here.

Music needs only one language. Some listeners have remarked I seem to be some sort of volcano on the squeezebox. I feel songs and dances, hit the right buttons and squeeze and pull the instrument without looking at it. And if I do hit a wrong button I just say, "It's live," and the audience grins. I don't know ... Might it be that an apple-cheeked angel played godparent and put a squeezebox in my cradle? I'm still grateful.

FKK

Naturism

For your listening pleasure
[Mp3]

De Sommer is dor, hei Hurra!

Nu holl'n wi dat mit FKK.

Fix dal Ti-Schört un Bücksen!

Nu sünd wi Waternixen.

Wi toben in Sünn un in't Natt,

man abends, denn gläuht uns dat Gatt.


Lyrics & Music: Hannelore Hinz

It's summer! With a beach towel each

We're off to the naturist beach.

Quickly off with those T-shirts and shorts now!

Let's be mermaids and mermen of sorts now!

Let's go frolic in sand, surf and sun!

Burnt backsides won't spoil our fun.


English: R. F. Hahn

I've been squeezing the box for visitors from far and wide while they take sightseeing boat tours on our Schwerin Lake. I've been squeezing it for people in nursing homes and hospitals too, not only on work days but, if need be, on Christmas Eve as well, for instance squeezing out the song Hoch kloppt dat Hart ("My Heart Beats with Delight"). And my heart beats with delight whenever I get to sing and dance with children to the tunes my squeezebox churns out, and when the kids then ask, "When will you be back?"

Don't worry! I'll be back.

Schriever-Hanne (Writer Hanne): Writing is like building a house. Mind that you don't forget the windows! My first place was a little old house with large windows—and inside was a Christmas tree with many candles. Christmas time ... and me a single young woman. My Christmas Fantasy surged forth from my heart like some upheaval—no sad poem, love—whatever used to be, hope—whatever will be. Christmas tree light gave me many friends, still these days. Euterpe tweeted the lyrics my way, and writer Ann-Charlott Settgast taught me my first steps in poetry and prose, later published in periodicals and anthologies. I wanted to get along farther and farther. Right after the fall of the Iron Curtain I started looking beyond my garden fence and made good friends—more learning. I wrote many types of poetry (rondeau, sonnet, sonnet cycle, haiku, etc.). But poetic corsets are likely to restrict the language—so there was free style. I added tunes to many of my poems, though real composers would do better jobs. Like a honey bee I keep striving to take good nectar back to the hive, and perhaps the small house will grow into a large one, one with lots of windows ... and one light shall never go out.

---