Russkij jazyk
Russian
---
Listen to this translation narrated with native Ukrainian Russian pronunciation:
Translation and Narration: Olga Kalashnik (Ольга Калашник)
Location: Melbourne (Australia), originally Ukraine
Facilitation: Andrys Onsman, Melbourne (Australia), originally Ljouwert/Leeuwarden (the Netherlands)
Transliteration: Reinhard F. Hahn
Language information: [Click]

---

[Cyrillic Script]
[Western Spelling (Universal)] [Western Spelling (English)]
---
Krapivnik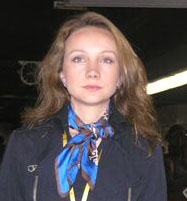 Davnym davno, nebol'šaja pevčaja ptica krapivnik svila gnezdo v garaže. I zažil on tam so svojej sem"ej. Odnažy kogda roditeli ušli v poiskax jedy dlja detej, ptency ostalis' odni v gnezde.
Spustja kakoje-to vremja, papa vernulsja.
Čto proizošlo? – sprosil on. – Deti, vy očen' napugany.
Ox, papa, – skazali oni, – sosem nedavno prixodilo bol'šoje čudovišče. Odin vzgljad jego nas očen' sil'no napugal. On zagljanul v gnezdo svoimi bol'šimi strašnymi glazami. I teper' my očen' boimsja.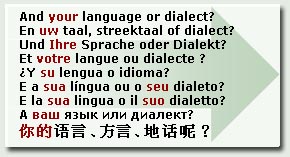 – Aa, skazal papa krapivnik, – i kuda že on pošjol?

– On ušjol v tu storonu.

– Ždite zdes', deti, – skazal papa krapivnik, – ja prouču eto čudovišče. Nečego bol'še bojat'sja, deti! Ja jego pojmaju. – I on pošjol vsled za čuloviščem.

On skrylsja za uglom i uvidel iduščego l'va.

No krapivnik ne ispugalsja. On sjol l'vu na spinu i zakričal: «Začem ty prixodil v moje gnezdo i napugal moix detej?»

Lev ne obratil vnnimanija na krapivnika. On tol'ko prodolžal idti.

Krapivnik ješčjo bol'še razozlilsja. On ješčjo gromče zakričal na l'va, – ne smej prixodit' k mojemu gnezdu, ja tebe govorju. jesli ty ješčjo raz prideš', – skazal on, – ty uvideš' čto proizojdet. ja etogo ne želaju, – skazal on i zamaxnulsja nogoj, – no srazu že perelomaju tebe spinu.

Zatem on vernulsja v gnezdo.

Sdelano, deti, – on skazal, – ja jego proučil. On bol'še ne vernetsja.