Yiddish
---
Listen to this version narrated with non-native pronunciation:
Translation: Reinhard F. Hahn and Mark Williamson (License)
Locations: Seattle, Washington, and Phoenix, Arizona (USA)
Narration: Reinhard F. Hahn
Transliteration: Reinhard F. Hahn
Language information: [Click]

---
---
Der rob
Der rob hot gehat zayn nest inem vogns hoyz. Amol zenen avekgefloygn di altn beyde kedey tsu brengen epes tsu esn far zeyere yingelekh – un zey hobn gor aleyn gelozn di kleyninker.
In a rege arum iz vider aheym gekumen der robn-tate.
"Vos zhe iz do geshen?" zogt er. "Ver hot aykh epes beyzs geton, kinderlekh? Ir zayt yo azoy dershrokn!"
"Oy, tatenyu," zogn zey, "aza monkalb aza groyser iz nor vos bay fargekumen. Er hot oysgezen azoy tayvlonish un groylik! Er hot arayn geglotst in undzer nest mit zayne groyse oygn. Derfar hobn mir undz azoy dershrokn!"
"Aha," zogt der robn-tate, "Vu farumert iz er gegangen?"
"Nu," zogn zey, "Er iz gegangen ot farumert."
"Vart!" zogt der robn-tate, "Ikh vel im nokh. Sha! Baruikt zikh, kinderlekh! Ikh vel im dervishn." Un glaykh flit er im nokh.
Az er iz gekumen umen ek, iz geven der leyb vos iz ot farumert gegangen.
Ober der rob hot nit gehat keyn moyre. Er iz gefloygn oyfn rukn funem leybn un hot ongehoybn tsu beyzern. "Farvos kumst du tsu mayn hoyz," zogt er, "un dershrekst mayne kinder?!"
Der leyb hot zikh gornit umgekukt un iz bloyz vayter gegangen.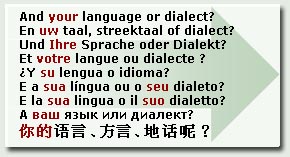 Deriber hot im dos kleyne giberle nokh shtarker oysgezidlt. "Gornisht host du dortn tsu ton, zog ikh dir! Un kumst du vider a mol," zogt er, "nu, du vetst zen! Ikh vel take nit ton," zogt er un heybt zikh oyf eyn fun zayne fiselekh, "ober ikh volt brekhn dayn rukn-un-lend mit eyn trit!"

Nokh dem flit er tsurik tsu zayn nest.

"Ot hot ir aykh, kinderlekh," zogt er, "Ikh hob dem gelozn hern. Der vet nit kumen do tsurik."