---
Translation: Lee Lewis & Alan Mendelowitz
Location: Kahokia, Illinois, USA; & Australia
Facilitators: Mike Szelog
Language information: [Click]



This Esperanto translation is based on the English versions. Please click here for an Esperanto translation based on the Japanese version, and click here for another English-based version.
---
La Parvolo
La parvolo havis sian neston en angulo de fojnejo. Unu tagon, la gepatroj flugis el la nesto por trovi ion por siaj infanoj manĝi, lasante ilin negardataj.
Post kelka tempo, Patro Parvolo revenis al la nesto.
"Kio okazis ĉi tie?!" li diris. "Kiu vin lezis, infanoj? Vi aspektas kvazaŭ vi havis timegon teruran!"
"O, Paĉjo," ili diris, "ia bestaĉo giganta venis ĉi tien antaŭ kelkaj minutoj! Li estis tre timinda! Li rigardis fikse en nia nesto kaj havis vere gigantajn okulojn kaj nin tre timigis!"
"Jes, mi vidas," diris Patro Parvolo. "Kien li iris?"
"Nu," ili diris, "li venis tien – en la arbaron."
"Restu vin ĉi tie!" diris Patro Parvolo, "Lin mi trovos. Ne zorgu, infanoj! Mi taŭge traktos lin!" Dirinte tion, li flugis el la nesto.
Li flugis pli malproksime en la arbaron, tiam li ĉirkaŭis kurbon, kaj post malgranda tempo ekvidis leonon.
Sed la parvolo ne timis. Li suriĝis cxe la dorso de la leono kaj komencis lin mallaŭdi. "Kial vi tiel trude venis al mia domo?" li diris, "timigante miajn infanojn!?"
La leono ne atentis al la birdo kaj dauxre promenadis.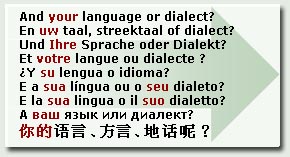 Tio kauxzis la malgrandan laŭtbuŝulon esti eĉ pli freneza kaj li komencis ja mallaŭdi la leonon eĉ pli severe ol antaŭe. "Nu, vi aŭskultu min! Vi ne havas ian ajn kialon esti ĉe mia domo! Kaj se vi iam aŭdacas reveni," li diris, "nu, vi vidos – kvankam mi ne deziras ĝin fari – " li levis unu el la gamboj, "Mi rompos vian dorson kun mia gambo je sekundo!"
Dirinte tion, li revenis rekte al sia nesto.
"Bone, miaj infanoj," li diris, "mi lernigis al tiu abomena leono bonan lecionon. Neniam li aŭdacos reveni."