Scottish Gaelic
---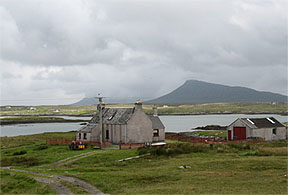 The Gaelic language tradition remains strongest on Scotland's Western Isles, especially on the Hebridean Islands, like here in Flodaigh, Outer Hebrides.
Language information: Gaelic is today's Celtic language of Scotland and is one of the country's three official languages, the other being English and Scots. It is one of six surviving Celtic languages, the others being Irish, Manx, Welsh, Cornish and Breton. Among these it shares the Goidelic branch with Irish and Manx.
Gaelic is mainly used in Scotland (Alba). But there are some Gaelic-speaking communities in Australia (Astràilia), Canada and the USA (Na Stàitean Aonaichte) as well.
Specifically Canadian Gaelic (Gàidhlig Chanaideanach) has been developed on Eastern Canada's Cape Breton Island (Eilean Cheap Breatuinn) and in some isolated communities in mainland Nova Scotia (Alba Nuadh or Alba Ùr).
Many people outside Britain assume that Gaelic is the original language of Scotland. However, the original Celtic languages of Scotland, probably belonging to the Brythonic branch, are Pictish and Cumbric, which are now extinct. The ancestral variety of Gaelic was imported to Scotland by the Scotti who immigrated there from Ireland, possibly beginning with the 4th century CE. It spread to many parts of Scotland and eventually displaced Pictish, Cumbric and Old Norse.
Mabou is one of Nova Scotia's communities with a Canadian Gaelic language tradition. It has two Gaelic names:
Màbu
and
An Drochaid
. Mabou and
Màbu
are derived from the name
Malabo(kek)
("place of confluence") in the local indigenous Mi'kmaq language.
While it is nowadays associated specifically with the Scottish Highlands (Gaelic A' Ghàidhealtachd, Scots Hielands), Gaelic used to be spoken in the Scottish Lowlands (Gaelic A' Ghalldachd, Scots Lawlands or Lallans) as well, and some Gaelic speakers can still be found there. In the Lowlands it soon came to compete to some degree with the Scots language, and eventually both of them came to be overshadowed by English (Gaelic A' Bheurla, Scots Inglis). Over the centuries, Gaelic largely retreated from the Lowlands while retaining a more or less strong position in the Highlands and on the Western Isles. In the meantime, it is by no means predominant anywhere on the Scottish mainland, Gaelic speakers making up no more than 25% of any mainland community's population. In some insular communities, its position remains somewhat more secure, with up to 75% of Gaelic speakers. It remains to be seen if recent official recognition and pledged support will at least stabilize the proportion of Gaelic speakers among Scotland's people. Gaelic is now being taught in many Scottish schools and is the medium of instruction in a few of them.
Oral and written Gaelic literature is rich and has a long history. Gaelic, along with Scots, is featured prominently in Scottish folk and folk-based musical traditions which enjoy enormous worldwide popularity, not limited to the millions of people with Scottish ancestry.
Genealogy: Indo-European > Celtic > Insular > Goidelic > Scottish
---
Click to open the translation: [Click]

---
Author: Reinhard F. Hahn