("Low German")
---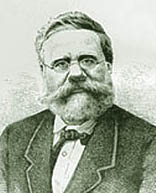 Fritz Reuter (1810–1874),
participant in the Low Saxon
reassersion movement and
celebrated prose writer in
the Mecklenburg dialect
Language information: North Saxon is the northernmost and largest dialect group, spoken in northern Germany. The direct descendant of Old Saxon, Low Saxon—usually, with the inclusion of Low Franconian varieties, known as "Low German" (Niederdeutsch, Plattdeutsch) in Germany—is originally used in the eastern parts of the Netherlands and in the northern parts of Germany. It is closely related to both German and (especially) Dutch but is recognized as separate regional language by the European Union.
The most important precontemporary phases of this languages are Old Saxon ("Old Low German," ca. 800–1100 C.E.) and Middle Saxon ("Old Low German," ca. 1200–1650 C.E.). Middle Saxon served as the lingua franca of the medieval Hanseatic Trading League and influenced a good number of languages, especially languages used on the Baltic Sea coasts. Its influence greatly changed the Scandinavian language, and its lexical influences on Kashubian (Eastern Pomeranian, Slavonic) and Estonian (Finnic, Uralic) were particularly strong.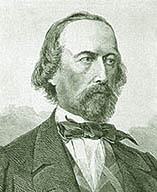 Klaus Groth
(1819–1999),
participant in the Low Saxon
reassersion movement and
celebrated poet and lyricist in the
Dithmarschen dialect of Holstein
Major Modern Low Saxon dialect groups:

Germany:

Northern Saxon

Elbe Marshes Dialects
Hamburg Dialects
Holstein Dialects
Schleswig Dialects
Lunenburg Heath Dialects
Northwestern Dialects
Eastern Friesland Dialects

Eastphalian

General Eastphalian
Heath Eastphalian
Elbe Eastphalian
Göttingen-Grubenhagen Dialects

Westphalian

General Westphalian
Münsterland Dialects

Eastern Low Saxon

Mecklenburgish-Western Pomeranian
Brandenburgish
Central Pomeranian
Eastern Pomeranian [area now partly in Poland, dialects moribund]
Low Prussian ("Low Prussian")

Western Prussian [area now in Poland; most speakers have emigrated; dialects moribund and extinct]

Mennonite dialects (Plautdietsch; no longer used in the original area)

Eastern Prussian [area now in Poland and Kaliningrad; most speakers have emigrated; dialects moribund and extinct]

Netherlands:

Kollumerland Dialects
Groningen Dialects

Northern Groningen Dialects
Westerwold Dialects
City Groningen/Noordenvelde Dialects

Stellingwerven/Steenwijkerland/Western Drenthe Dialects
Central Drenthe Dialects
Southern Drenthe Dialects
Twente Dialects
Gelderland, Overijssel and Urk Dialects

Achterhoeks Dialects
Salland/Southeastern Drenthe Dialects
Urk Dialects

Veluwe Dialects

Northern Veluwe Dialects
Eastern Veluwe Dialect

Eastern Europe and Asia:

Mennonite dialects (Plautdietsch; in Russia and Central Asia)

Americas:

Midwest U.S. Dialects (predominantly North Saxon and Pomeranian)
Mennonite dialects (Plautdietsch; throughout North and Latin America)
Genealogy: Indo-European > Germanic > Western > Low German > (Low) Saxon
---
Click to open the translations: [Achterhoek] [Drenthe 1] [Drenthe 2] [Drenthe 3]

[Eastern Friesland]
[Hadeln]
[Hamburg]
[Mecklenburg]
[Mennonite 1]

[Mennonite 2]
[Mennonite 2]
[Mennonite 4]
[Mennonite 5]
[Middle Saxon]

[Münsterland 1]
[Münsterland 2]
[North Saxon]
[Old Saxon]
[Olland]

[Stellingwerven]
[Twente]
[Westphalian 1]
[Westphalian 2]

---
Author: Reinhard F. Hahn